Facing a global pandemic
The COVID-19 pandemic presented many of our charity partners with a colossal challenge. As demand for their services peaked, their cash flow, volunteer resources and fundraising options plummeted. While Goodman focussed on helping its customers, the Foundation looked to support key partners navigate the crisis.
Cerebral Palsy Alliance, Australia.
We helped Cerebral Palsy Alliance make the switch from face-to-face to online support and Raise Foundation ensure 'at risk' high school students were able to continue their mentoring programs online.
Paralympics Australia.
When the Tokyo 2020 Paralympic Games was postponed by one year in March, we helped Paralympics Australia avoid unplanned storage fees for its competition equipment by providing pro-bono warehouse space and financial relief that allowed the team to focus on keeping its athletes fit and motivated.
The Fred Hollows Foundation, China.
For charity partners occupying space in Goodman-managed office or warehouse facilities, including Special Olympics, Fred Hollows Foundation (in China) and Windgap, the Foundation provided significant additional financial support to help them manage their shortfall in critical revenue due to cancelled fundraising events.
SOS Children's Villages, Europe.
In Europe, the Foundation contributed to street nurse charity, Infirmiers De Rue, to support homeless people in Belgium, as well as to the efforts of SOS Children's Villages in France, Belgium and Germany to support schooling from home.
Second Harvest Food Bank of Orange County, California, USA.
Meanwhile, in California, Goodman helped food re-distribution service, Second Harvest Food Bank of Orange County, prevent looming food shortages by purchasing four truckloads of food while some of the Irvine-based Goodman team volunteered to pack and distribute essential food supplies.
KiwiHarvest, New Zealand.
The Foundation's work in food redistribution ramped up in other parts of the world too, with charities OzHarvest, UK Harvest and KiwiHarvest also seeing increased demand.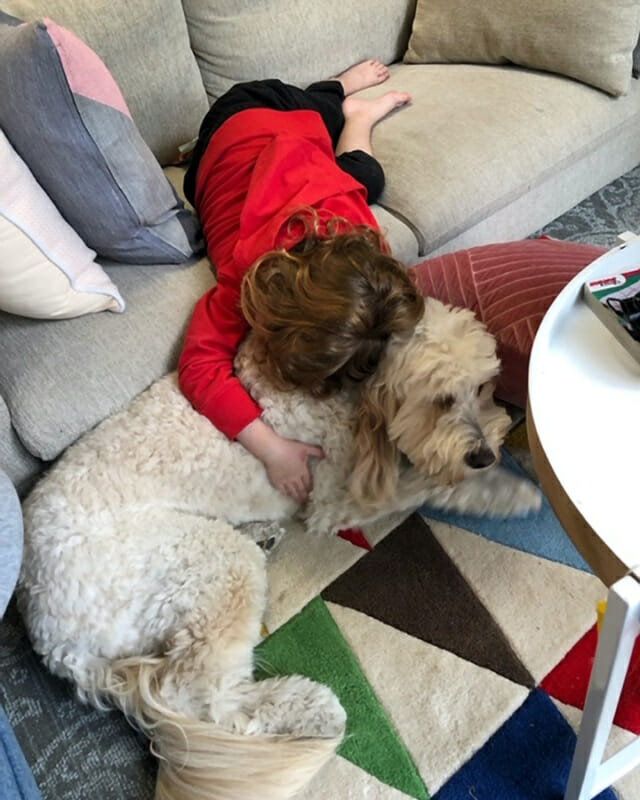 A safe haven for vulnerable women and children
Early in the pandemic, experts predicted a rise in the need for safe spaces for those experiencing domestic violence. Recognising this, the Goodman Foundation engaged with Women's Community Shelters (WCS) in Sydney to identify vulnerable women. These were women who were at significant risk of family violence and often the first category of people facing unemployment, but were not eligible for any social funding programs or government assistance.
Using Goodman's dedicated grant over three years, WCS established a Women Without Income program to help around 30 families access safety in shelters, support essential medical or legal help, and also to transition other families to independent living.
"Through the Women Without Income program, we've immediately been able to support women and children who really had nowhere else to turn," said Annabelle Daniel, WCS Chief Executive Officer. "We've provided support including bonds for independent housing, funds for critical medication and furniture for new homes."
"Thanks to Goodman's incredible generosity, we were able to provide 220 families, some the most vulnerable in our community, with the tools they need to be able to access therapy at home for their children."
CEO Cerebral Palsy Alliance
Rob White
Stepping up support for
Cerebral Palsy Alliance
Cerebral Palsy Alliance (CPA) offers intervention, therapy and all the benefits of its world-leading research to children and adults living with cerebral palsy. Over the five years that Goodman has been a global sponsor of CPA's leading health and wellness fundraising event, STEPtember, Goodman has helped raise millions through its own global fundraising efforts, as well as those from additional contributors brought on board through the Friends of Goodman initiative.
About $800,000 was donated during Goodman's 2019 STEPtember campaign alone. However this wasn't a normal year, with the pandemic shutting down options for all of CPA's onsite therapy visits. CPA identified 400 vulnerable families who urgently needed to continue their life-changing therapy and Goodman furthered its support beyond STEPtember to help CPA complete a swift pivot to Telepractice delivery.
"Thanks to Goodman's incredible generosity, we were able to provide 220 families, some the most vulnerable in our community, with the tools they need to be able to access therapy at home for their children," said Rob White, CPA Chief Executive Officer. "Telepractice has been a life changer for these families, not only supporting their child's therapy needs but also ensuring connectedness and support for the whole family."